Surviving Winter in Gunma
Editor's Note: This post was written before the beginning of time. The contents may no longer be relevant or accurate. Please investigate thoroughly before taking any advice or embarking on any adventures based on the information herein.
The inevitable is coming. Every year we complain and try to prepare, and yet every year we get knocked down a notch and are reminded we will never win winter. Winter in Gunma is just as dreaded as every sempai will tell you- the houses are ill-equipped at keeping in heat, the AC heaters work overtime to keep the drafty winds out, and the chill-to-the-bone winds that sweep through Gunma will make you feel like Frosty. Winter is not easy but we are all here to conquer it as best we can together. If you are worried about what will happen in the next couple of months, read up on these great ways to stay warm and survive the dreaded winter.
How to Stay Warm
Wear layers

I highly recommend wearing thermal underwear (such as "HEATTECH" from Uniqlo) as your undermost layer on top and bottom. (Special note about heat tech- If you have a history of dry skin, as I do, you may want to be cautious when purchasing HEATTECH. Synthetic fabrics can aggravate dry skin, and HEATTECH's deliberate design may make it more drying than the synthetics you're used to. The label does prominently advertise that HEATTECH uses the skin's moisture to produce its warmth).
This special material keeps your body heat in so you feel warmer from the get-go. On top of that layer, I usually wear a sweater, a puffy down-jacket, and pants as my base.
Layers are important because though you may feel just warm enough when you're outside, as soon as you walk into a super-heated office, you may start sweating, which could cause you to catch a cold. Layers allow you to match your surroundings.
Note: School hallways will most likely be the same temperature as outdoors, but many schools ban wearing hats, scarves, gloves, and down-jackets inside, so layer accordingly.
Invest in warm winter clothes.
The difference between my first and second winter on JET comes down to one thing: my jacket. My first year I mostly wore peacoats, which were cute, but did not keep me warm in the least. My second year I invested in a puffy down jacket, which looked a bit silly, but was so well insulated, I didn't mind. Gunma is famous for its soul-crushingly dry and cold wind, so choose clothes that are wind resistant (shiny jackets tend to be a good indicator).
Cover as much of your body as possible
A hat, gloves/mittens, and a scarf are vital for keeping body heat in. Every bit of exposed skin is an opening for body heat to escape. Some Japanese people also use a haramaki (a wrap that goes around the lower abdomen) to keep the stomach and lower back warm. I personally like wearing a haramaki, so you may want to give it a try!
For those who will cycle a lot this winter, fuzzy neck warmers that cover your neck and part of your face can help keep you warm, but beware: they can also trap your sweat, which again can become the source of a cold. Ear muffs are great normally, but should be avoided on snowy days when wet hair could lead to a cold.
Take a bath at night
This may just be personal preference, but I find that on the nights when I only take a shower, I am not nearly as warm as the nights when I take a shower and then a bath. If I clean off the day's dirt and sweat and then heat my body for the night, I always feel healthier in the morning. On a side note, my pipes froze over twice my first year, so my coworkers suggested running hot water just before I went to bed to prevent this phenomenon, which became a good excuse to take a bath every night.
Keep your room heated and humidified
Most people use their air conditioners as heaters during the winter, which is great for keeping warm but tends to dry out the surrounding air, causing many a sore throat. I recommend using a humidifier, which replenishes the moisture in the air and can help prevent scratchy, sore throats. At work, you may see tea pots on stove heaters, or even your coworkers spraying water bottles into the air, for this same reason (to humidify the atmosphere).
Eat warm foods
Nabe literally means "pot", but during winter it describes the unbeatable "hot pot." If you like the prepared soup bases available at grocery stores, you can make nabe very simply by adding the soup base to a ceramic nabe pot, adding any assortment of vegetables (Chinese cabbage, carrots, mushrooms, etc.) and proteins, and heating the pot. This dish is best enjoyed cooked over a portable stove under the comfort of a kotatsu, a square heated table covered with a blanket. If you want even more warmth, I recommend a heated carpet and/or heated blanket, both can be purchased from Cainz Home, Nitori or similar stores.
Hokkairo
Sold at every grocery or home store, these inexpensive and convenient chemical heat-packs are perfect for slipping in your shoes or pocket for those long and chilly walks through the school hallways. Hokkairos come in all shapes and sizes, and stay warm for several hours. Simply open a pack, give it a shake, and stick it on your body or in your pocket for an instant blast of much-needed heat.
Hot Water Bottles (Yutampo)
A water bottle is absolutely essential for a warm nights sleep, and here in Japan, the yutampo (湯担保) is a popular winter accessory. The Japanese style water bottle is made of a hard plastic rather than the rubbery style we may be used to, but works just the same and is as simple as can be. Fill a yutampo with hot water and throw it in bed to warm your chilly toes all night long!
Go to Onsen
Find a local onsen or bath and visit it regularly. Not only will you feel amazing, but you will avoid waking up to frozen pipes in your shower! Some public baths have membership cards with discounts for repeated visits.
Soak up the sun
The next two points are more for mental health. On clear winter days, it is incredibly uplifting to feel the sun on your face. Typically it's dark when you leave for work and it's dark when you get home from work, so some people don't get enough Vitamin D from the sun's rays. Accordingly, if you can, give yourself some time during the day to go outside and absorb the sun's restoring rays. Even if it's cold, if you walk around for a bit in the sun you'll feel warmer, and the exposure to the sun will provide you with some much needed revitalization
Don't lock yourself inside all winter
It's very tempting to spend the entire winter season watching movies while eating nabe under yourkotatsu. While this can be an enjoyable way to spend some evenings on your own or with others, I highly recommend leaving your apartment to explore Gunma during the winter. Gunma is famous for winter sports such as snowboarding, skiing, snowshoeing and more, so this could be a great chance to try a new activity! Gatjet will also be hosting different events throughout the winter to get us all out of our slump and into fresh air.
For non-sports fans, I recommend trying a winter onsen day trip. Kusatsu is extremely hot, but in the heart of winter the water's heating powers can keep your body warm all day while you explore the town's lovely cafés, restaurants and shops. Don't forget about all the illuminations Gunma has to offer throughout the winter break!
Meet your friends
Meet your friends, your neighbors, your anybody! Warm your bodies and your spirits by meeting with your close ones to chat, play games, have a laugh – anything to keep your hearts warm. They say winter is the season of loneliness, but go prove the universe wrong!
---
How to winter-proof your house
Suffering separation anxiety when parted from your kotatsu? Sub-zero apartments and icy bike rides to school mean Gunma's cold is already biting. Without wanting to sound like a doom-monger, the worst of the winter is yet to come! Meet the cold head-on and make your pad a hot-haven…
Bubble wrap your windows
Bubble wrapping your windows will give you instant double glazing. Bubble-up to keep the cold out and your precious warmth in. Wrap with smaller bubbles will be more effective as the bubbles are packed together more tightly than those on a larger grade wrap. Fitting it is simple; clean your windows, cut your wrap to size, and use masking tape to attach it to the frame. Some websites recommend just spraying water onto the bubble wrap and sticking it directly on to the glass. Here's a step-by-step for the DIY-phobic.
You can pick up sheets of bubble wrap at the 100円 store. For larger lengths visit Cainz Homes. Try and resist the urge to pop all those lovely bubbles before Spring!'
Banish drafts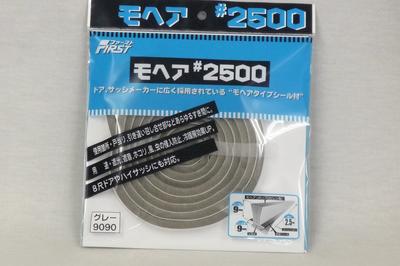 Don't let a draft blow that warm fuzzy feeling out of your kotatsu. Wobbly doors and flimsy windows seem to be the norm in Japanese apartments. A sukima teepu (すきまテープ) is a quick fix to keep the cold winds out. These tapes have a peel-off sticky back and are available in foam and brush varieties. Cut lengths to size and stick them around the edges of your doors and windows. These are also great for keeping out noise, dust and summer insects. Pick some up at a hardware store or online.
Curtains for the cold
Tackle the shivers by investing in some drapery. Flimsy curtains will let the heat escape and the cold penetrate. I did away with my apartment's flimsy, too short, lurid green curtains and replaced them with some heavy heat keepers – the improvement was instant. Heavy curtains will serve you well throughout the year by keeping the sunlight out and you cool during the summer. A makeover at your mado won't cost the earth either… I picked up my miracle 'heat-in, sun-out' curtains at Sanki for a bargain 1,000円. I did a smaller window for 500円. Hang some new threads at your genkan for an extra defence against the winter.
Fit a stop panel
Another solution for window warmth warfare is a ストップパネル (stop panel). These plastic or foam sheets have a reflective silver side and can be cut to size. Fit them to windows and glass doors to tackle heat loss and drafts. These panels are only high enough to cover the bottom section of your windows and doors, so are maybe worth considering if bubble wrap alone isn't keeping you toasty. You can find stop panels on Rakuten.
Apply some heat
It seems there isn't anything that can't be heated by a kairo. The word kairo comes from the kanji 懐 (futokoro) meaning pocket, which can also be read as kai, and 炉 (ro) which is translated as oven. Eco-kairo are environmentally friendly microwavable gel pockets offered in an endless array of designs. Pick up your 'pocket oven' at a hundred yen store or go high-tech with a USB version.
When your futon feels like a block of ice, slip in a kairo bed pad and pillow for a cosy night's rest. Try a kairo band-aid which can be strapped to your favourite cold spot for a guaranteed 40 degree glow on the skin.
But the heat doesn't stop there… A set of USB kairo glove warmers could come in handy when you're bashing out February lesson plans on the keyboard. And for ladies who are very brave, and presumably very cold, there are even kairo panty liners. Good luck girls!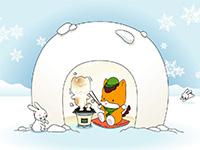 Remember to stay cool, but not cold. Keep warm, Gunma.